Everybody knows that New Jersey is home to rock legends like Jon Bon Jovi and Bruce Springsteen. But did you know that the nation's capital, submarines, and the Monopoly game all have roots right here in The Garden State? It's true! I'm Heather Tindall Robillard, a local New Jersey real estate expert and broker associate at RE/MAX Tri County. Today, I'm going to be bringing you the 10 cool things that you didn't know about New Jersey- and number 10 is sure to make you scream.
#1 Princeton, NJ was our nation's capital in 1783
Princeton New Jersey was home to our nation's capital from June 30th to November 4th of 1783. After protests broke out in Philadelphia from continental soldiers who were owed back pay from the revolutionary war, Congress decided to move to the quieter, but war ravaged, village of Princeton. While Princeton only served as our nation's capital for four months, Congress, most notably while they were there, finalized the ending of the American revolution with the arrival of the final peace treaty from Great Britain (The Treaty of Paris).
And the building where Congress held session under articles of the Confederation is still standing today. Through the FitzRandolph gate of Princeton university stands Nassau Hall, which is now used for Princeton University's faculty and board of trustees. Nassau Hall also serves as the backdrop for Princeton University's commencement ceremonies- afterwards graduates walk through the FitzRandolph Gate signifying the end of their time at the university. Fun fact: superstition among students is that if you walk through the gates before you graduate, you'll never finish your degree.
#2 It's Illegal to Pump your own Gas in NJ
No. 2 on my list of 10 cool things that you didn't know about New Jersey is that it is illegal to pump your own gas. The Retail Gasoline Dispensing Safety Act of 1949, basically states that because of the dangerous nature and flammable nature of gasoline, it would be best for the public safety if a trained operator dispensed it. And while the state sites safety as its primary reason, most New Jerseyans tend to believe that money was behind the law.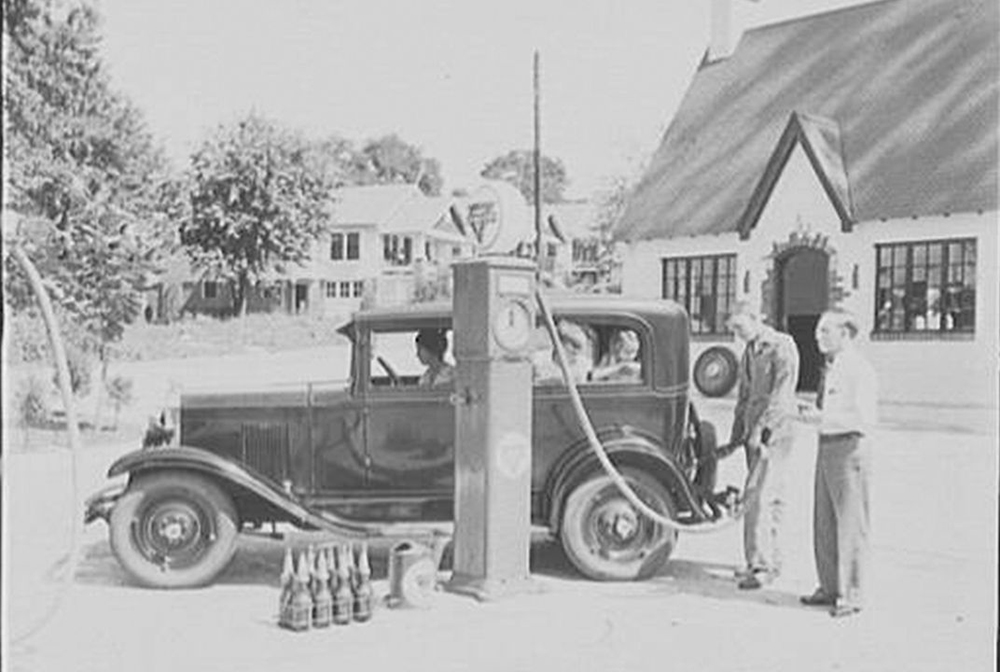 In the 1940s, a gas station owner decided to charge two separate prices- one for full service and one for self-service. Local competitors were incredibly nervous about losing business and so they put pressure on lawmakers to write the law based on safety. Ironically enough, New Jersey tends to be lower in gas prices than our neighboring states. Plus we never have to stand in freezing temperatures, sweltering, heat, or get wet while pumping our gas.
#3 Atlantic City, NJ Inspired the Street Names of Monopoly
No. 3 on my list is that the game Monopoly's streets were actually named after the streets of Atlantic City. In the early 1930s, Philadelphia native Charles Darrow modified a already patented game called the landlord's game into the modern Monopoly that you know today. He then sold it to Parker Brothers/Hasbro in 1935. It said that Atlantic city became the inspiration for the street names due to his fondness of childhood vacations at the beach side town. And in 1935, 20,000 game sets were sold in one year, making Darrow the first millionaire game designer in the world.
#4 Atlantic City Boardwalk is the Largest in the World
And speaking of Atlantic city, No. 4 on my list, the Atlantic city boardwalk, the largest boardwalk in the world. Its first section was constructed in 1870 and now its totality spans 4 miles in length and 60 feet across at its widest point.
Home to the world-famous Steel Pier, self-built the "Showplace of the Nation" this pier gained fame in the early 19 hundreds with acts such as The Diving Horse and Rex the Wonder Dog, a water-skiing canine. The pier also hosted the General Motors exhibit from 1926 to 1933 and crowned miss America, right on the pier from 1935 to 1938. Today, the Steel Pier has tons of amusement rides, games, food, and drink for the thousands of tourists that visit each year.
#5 Cape May, NJ is a Designated Historic Landmark
No. 5 On my list of cool things you didn't know about New Jersey is actually the town of Cape May. Cape May, NJ was established in 1761 as the first seaside resort of America. Known for its beautiful architecture, bed and breakfasts, and beach side resorts; the town of Cape May was registered as a national historic landmark in 1976- making it only one of five in the nation with this designation.
#6 Hosts the Largest Hindu Temple in the US
No. 6 on my list is certainly a head-turner. New Jersey is proud to be the home of the United States largest Hindu temple. BAPS Shri Swaminarayan is located in my hometown of Robbinsville New Jersey.
Taking four years to build, this 12,000 square foot Mandir was completed in 2014 and stands 42 feet tall, 130 feet long, and 87 feet wide. It is only the third Mandir of its kind in the world- with 68,000 cubic feet of carved Italian Carerra marble. And a total of 4.7 million man hours were needed by craftsmen and volunteers to complete the project.
#7 NJ is the Diner Capital of the World
No. 7 on the list is New Jersey diners. Yes, New Jersey is known as the "Diner Capital of the World" with over 525 diners across our 21 counties. The first stationary diner was erected in 1913 in Bayonne- and they were often adorned with fancy lettering and shimmering neon to attract drivers passing by.
So what can you get to eat at a diner? Imagine a home cooked meal with the speediness of fast food. You can get a short stack of pancakes, and a rib eye steak, plus a side of chicken rice soup at 11:00 PM, no problem, in 10 minutes flat. It's literally the best thing ever. But diners are so much more than just a place to eat for New Jerseyans. Michael Gabriel author of the History of Diners in New Jersey said it best, "Diners are a part of our mythology. Everyone from New Jersey grows up with the culture of diners ingrained as part of their life."
#8 The First Pro Baseball Game Played in Hoboken, NJ
No. 8 on my 10 cool things you didn't know about New Jersey is America's favorite pastime! That's right. The very first professional baseball game was played in Hoboken, New Jersey. On June 19th, 1846, The New York Knickerbockers baseball club played the New York line in Hoboken, New Jersey. Starting what is now truly a unique American tradition. The Knickerbockers lost, by the way, 23-1 in the four innings they played.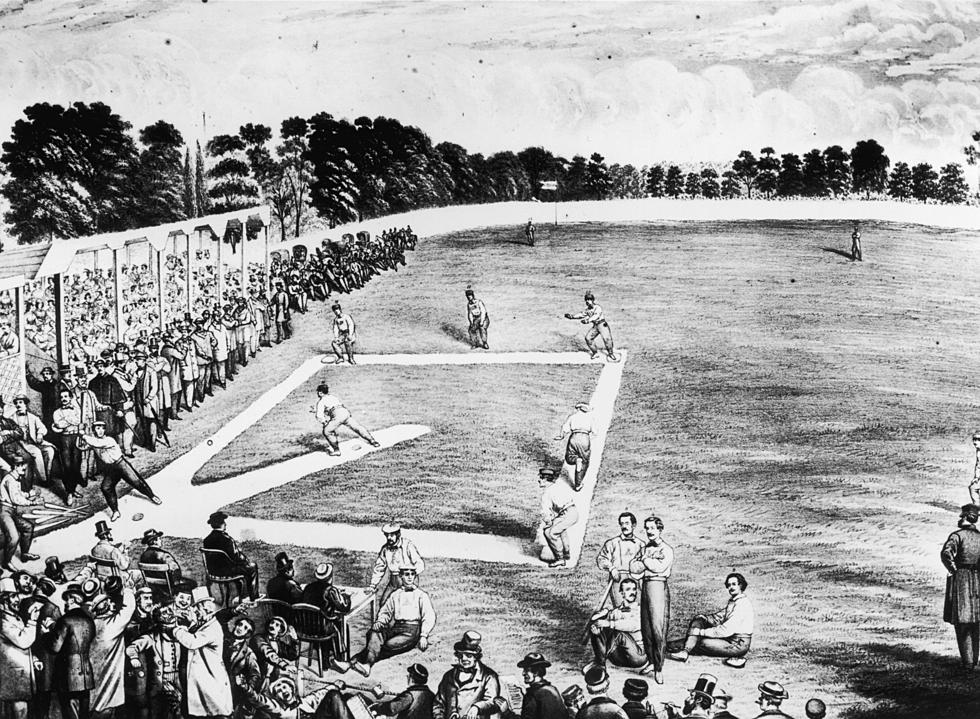 #9 World's First Submarine Ride on the Passaic River
So what do submarines and New Jersey have in common? Well, No. 9 on my list is that the first submarine ride took place right here in New Jersey on the Passaic river in Patterson.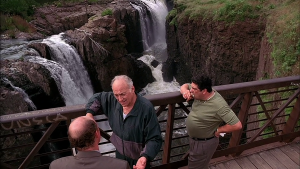 In 1878, inventor John P. Holland launched his experimental vessel in front of a large crowd on a slow moving section of the Passaic River above The Great Falls. And fun fact- The Great Falls have been featured numerous times in the TV show, The Sopranos. The submarine dove to 12 feet in depth and hovered underneath the water for nearly an hour. Later, Holland stripped the vessel and sank it in the Passaic River.
#10 Kingda Ka- World's Tallest Rollercoaster
We are here at No. 10 of my 10 cool things you didn't know about New Jersey and as promised this one's definitely going to make you scream. New Jersey is proud to be the host of the world's tallest rollercoaster, Kingda Ka, at Six Flags Great Adventure in Jackson, New Jersey. Completed in January of that year, Kingda Ka proudly boast its first public passengers for a ride on May 21st, 2005. At a top height of 456 feet with a 418 foot vertical drop, nearly 15 years later Kingda Ka still holds the record as the tallest rollercoaster in the world. And although it lost his title as the fastest rollercoaster in the world, back in 2010, the 128 mile per hour Kingda Ka rollercoaster will certainly get your heart racing and your voice's screaming.